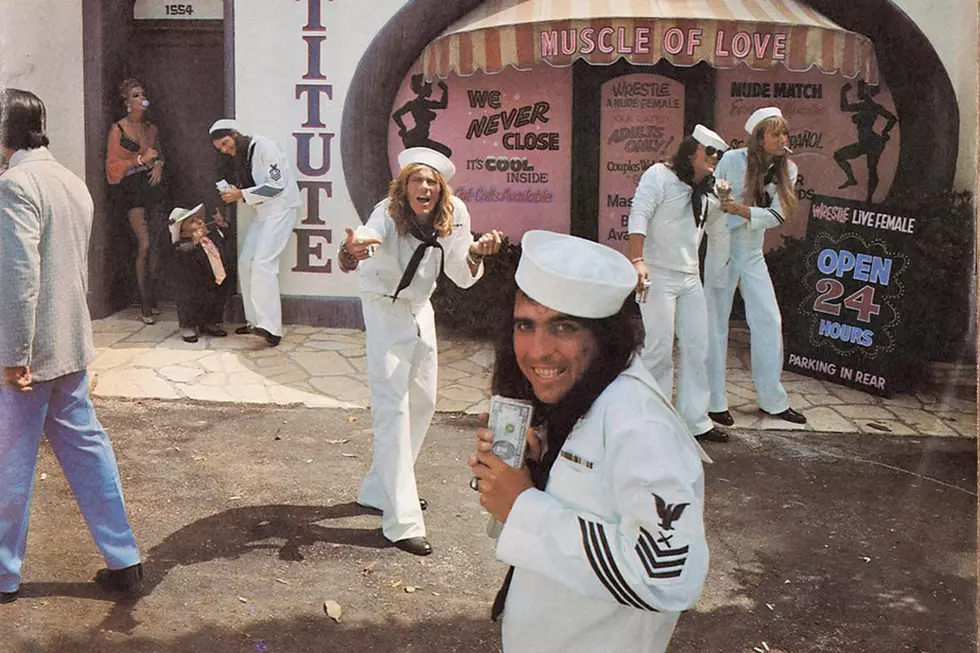 Why the Alice Cooper Band Fell Apart on 'Muscle of Love'
Warner Bros.
Alice Cooper had been around since the late '60s, making a name for themselves by keeping away from the era's conventions. Their attack was comprised of gritty rock 'n' roll dressed up as vaudeville style and spat back at their expanding audiences.
Even though their namesake frontman was a focal point, Alice Cooper remained an actual band. But all that changed following the Nov. 20, 1973 release of Muscle of Love.
By 1973, Alice Cooper had become a household name, Hollywood punch line and a general topic of conversation. Hits like "I'm Eighteen," "School's Out" and "Elected" had put them there. But the cracks were starting to show. The records leading up to Muscle of Love – Love It to Death, Killer, School's Out and Billion Dollar Babies – were unbeatable. Then came Muscle of Love, which struggled to keep one step ahead.
How Did 'Muscle of Love' Fall Short?
It all kicks off with the fairly pedestrian stomp of "Big Apple Dreamin," which strips away the band's trademark sound, favoring instead a pseudo-funk riff. In theory, it's great that the group would want to mix things up a bit, but once Cooper begins to sing, it doesn't even sound like the classic band.
Listen to Alice Cooper Perform 'Big Apple Dreamin'
Still, things get back on track with the very next cut, "Never Been Sold," a riff-heavy hard-rock tune rooted in their familiar style, with the addition of horns and a throat-grabbing guitar solo leading the charge. It's followed by one of the band's most underrated songs, the dreamlike "Hard Hearted Alice," and "Crazy Little Child," which steps into something close to Dixieland jazz.
Muscle of Love continues along this path, with songs like the gritty rocker "Working Up a Sweat" and the title track, the album's most Alice-like cut. There's also "The Man With the Golden Gun," written for the James Bond movie but rejected in favor of Lulu's song. Meanwhile, "Teenage Lament '74" coasts into soul territory, and the album-closing "Woman Machine" is another funk-based rocker that ends the LP on a rather underwhelming note.
READ MORE: 10 Most Underrated Alice Cooper Songs
Little surprise that the band hit a detour not long after the album's release. Within a year, the Alice Cooper group would break up, and the singer kept the name for himself, embarking on a solo career that would get him back on the charts and into concert arenas. Most of the rest of the band formed Billion Dollar Babies, which released one album, "Battle Axe," before calling it quits.
A famous review of Muscle of Love from back in the day asked: "Has success spoiled Alice Cooper?" In retrospect, all signs pointed to yes.
Rock's Most Overshadowed Debuts
From David Bowie's overlooked first album to Dave Grohl's pre-Nirvana record with Scream.
Gallery Credit: UCR Staff
See Alice Cooper's Spouse in This Video of the Hottest Rockstar Wives