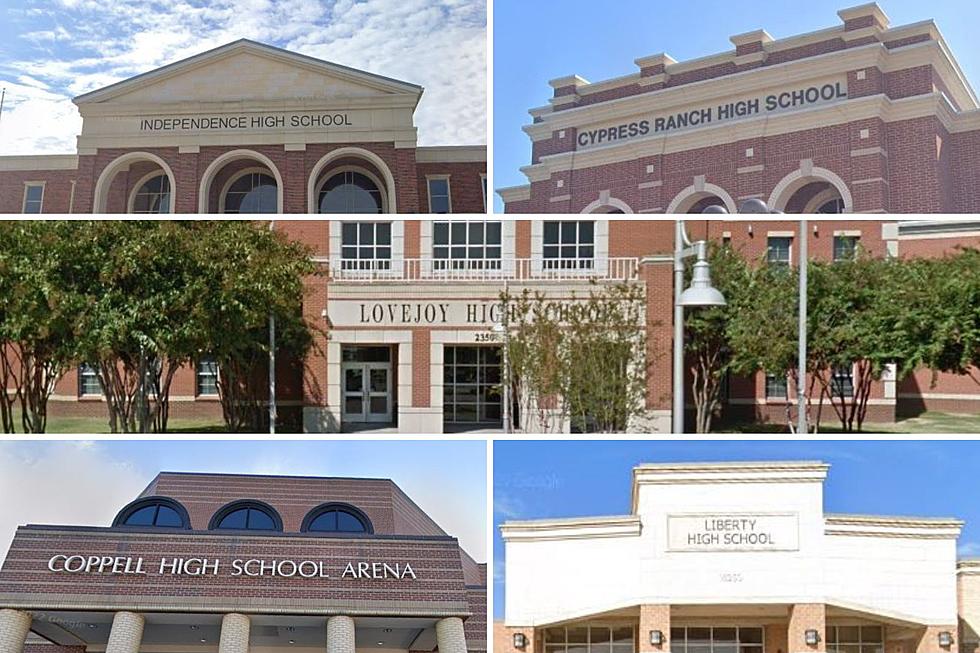 Where Are The Best Public High Schools In Texas?
Google Street View
📚 Data has ranked the best public high schools in Texas
📚 Dallas area public high schools dominate the top 30 districts in Texas
Parents across Texas are in search of the best school and best education for their children. Whether it's in Kilgore, Longview, Plano, Round Rock, Houston, or Dallas, Texas. Parents want to give their kids access to the best education possible. While Texas parents are in search of the best public schools for their students, so are Texas transplants. As we know Texas is experiencing an influx of people moving to the Lone Star State and these parents will definitely factor in and consider the ranking of a school district when it comes to purchasing a home and putting down new roots.
Currently, there is a debate going on in Austin about school choice and where they can send their kids to school. Many are seeking out highly ranked schools when it comes to academics or to the school's athletics program.
There is a source for parents that are looking for the best schools, not just public but private and higher learning, Niche. This is a site that crunches data to give parents a fresh look at particular schools, school districts, colleges, graduate schools, and much more. The site uses eight weighted factors for its ratings. While a huge emphasis is on academics, they also add in factors like diversity and culture, health and safety, clubs and activities, resources, and results from parent, teacher, and student surveys.
Once all of that data is crunched and sorted, they came up with a list of the 30 best public high schools in Texas. After looking at the list, we noticed that nearly half of the schools on the list are in the Dallas-Ft. Worth metroplex.
30 Of The Best Public High Schools In Texas
These are the top thirty public high schools in Texas according to
Niche
. Many factors went into creating this ranking, including, academic success and grades, school activities, health, and diversity as well as input from teachers, parents, and students.
Only The Truest East Texan Can Get Through This 'Jeopardy!' Game
We took one of America's most popular game shows and put an East Texas spin on it. Scroll slowly through the answer so you don't reveal the question too early! Good luck, sorry there's no money to be won, just bragging rights on how many you get right!
The A to Z Guide of Tyler, Texas
Tyler offers its residents and visitors a wide variety of activities, whether its family activities, dining out, cultural experiences or history, there is a lot to do and learn.
Take a Look at the Sweetest Airbnb You've Ever Seen in Waco, Texas [PHOTOS]
I think we may have found one of the sweetest, most adorable Airbnbs we've ever seen. And the best news? It's not too far from us.