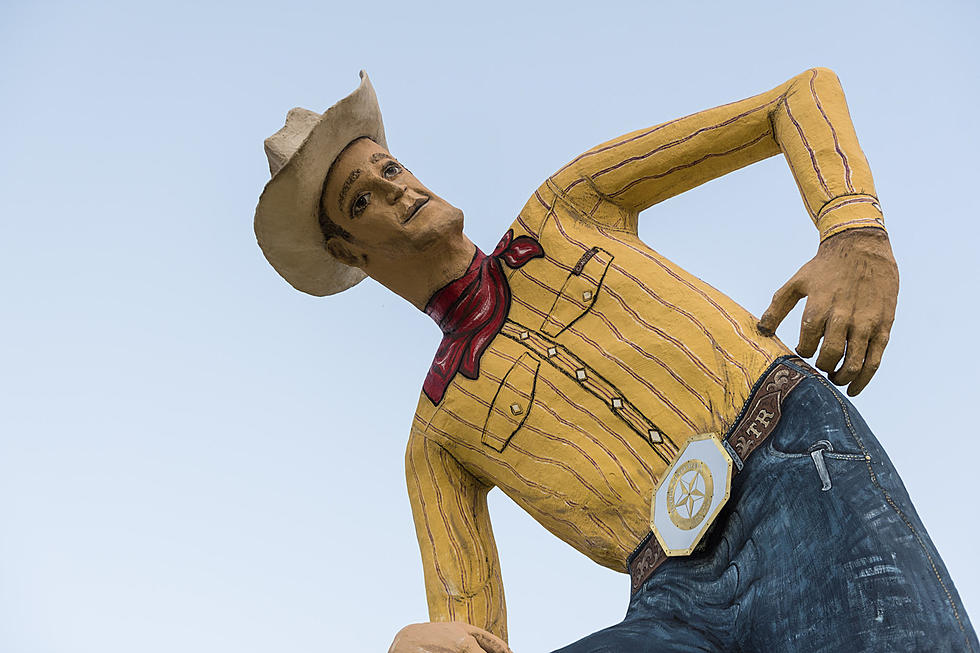 Everything is Bigger in Texas: Even the Roadside Attractions
Michael J. Rivera/Townsquare Media
touWhen traveling through Texas you never know what you will run across, however, these larger-than-life sculptures are definitely worth stopping for on your trip.
Tex is a 47 ft cowboy.  Tex was originally erected in 1959 by Harry Wheeler.  It was built to advertise Wheeler's Western Store.  It was restored in 1989 after a car crashed into one of Tex's boots.  Then in 2016, Tex went through a complete restoration.
This Bowie Knife was unveiled in April 2016.  It is 20 ft long, with the blade measuring 14 ft 5 in, and weighs 3,000 pounds.   Maybe this would fit in Tex Randall's pocket?
The branding iron was created by Greg Conn in 2018. The branding iron is 22-foot-long, 3,000-pound branding iron with the XIT ranch logo.
 Big Blue Crab - Rockport, Texas
The Big Blue Crab of Rockport was founded in 1957 after it was placed on the Del Mar Grill.  After closing, the crab was purchased in 1966 by the Chamber of Commerce.   This crab survived Hurricane Beulah in 1967 and Celia in 1970, but it eventually fell apart due to time.  In 2004, it was removed in buried.  In 2012, a new crab was created to replace the original Big Blue Crab.      Hurricane Harvey came in 2017 and destroyed this Big Blue Crab.  The current Big Blue Crab (not so blue) was installed in 2021.  This crab was built to withstand the storms that come to Rockport.
Bob Wade designed these Ostrich and Calf Skinned Cowboy boots.  They stand 35 ft tall and 33 ft wide.  They were originally installed in Washington, DC in September 1979 but moved to San Antonio in 1980. The giant cowboy boots greet visitors at the North Star Mall. 
 Ms. Pearl the Giant Squirrel - Berdoll Pecan Farm, Cedar, TX
Ms. Pearl has been standing at the Berdoll Pecan Farm since 2011, she stands 14 ft tall.  She's had a few makeovers over the year, but people from all over stop and take a picture with her. 
Wayland Dobbs created this spur and it was put up in 2016. The spur weighs 10,000 pounds and is 35 ft tall and 20 ft. wide. 
 

 

 

View this post on Instagram

 
This killer bee was erected as a reminder that in October 1990 the fist swarm of Africanized bees came into the United States.
The Walt Disney Company donated this giant fire hydrant to the City of Beaumont in March 1999 as a part of the re-release of 101 Dalmations.  The fire hydrant weighs 4,500 pounds and can blast 1500 gallons of water per minute.
The original world's largest pecan was placed in 1962.  It's 5 ft long and 2 1/2 wide and weighs 10,000 pounds.
Artists Claes Oldenburg and Coosje van Bruggen created this sculpture and named it Monument to the Last Horse.  It stands on the grounds of the Chianti in Marfa, Texas, marking the grave of Louie.  Louie was the last cavalry horse buried in 1932.
Those are definitely some unique and larger-than-life roadside attractions in Texas.
25 Landmarks of Amarillo and the Texas Panhandle
6 Silly Yelp Reviews of Lubbock Tourist Attractions
The Top 10 Tourist Attractions In Wichita Falls According To Trip Advisor
Whether you're an outdoorsman or a patron of the arts, there are enough tourist attractions in Wichita Falls to wear anybody out. Here are the top 10 "Things To Do" in Wichita Falls according to Trip Advisor.