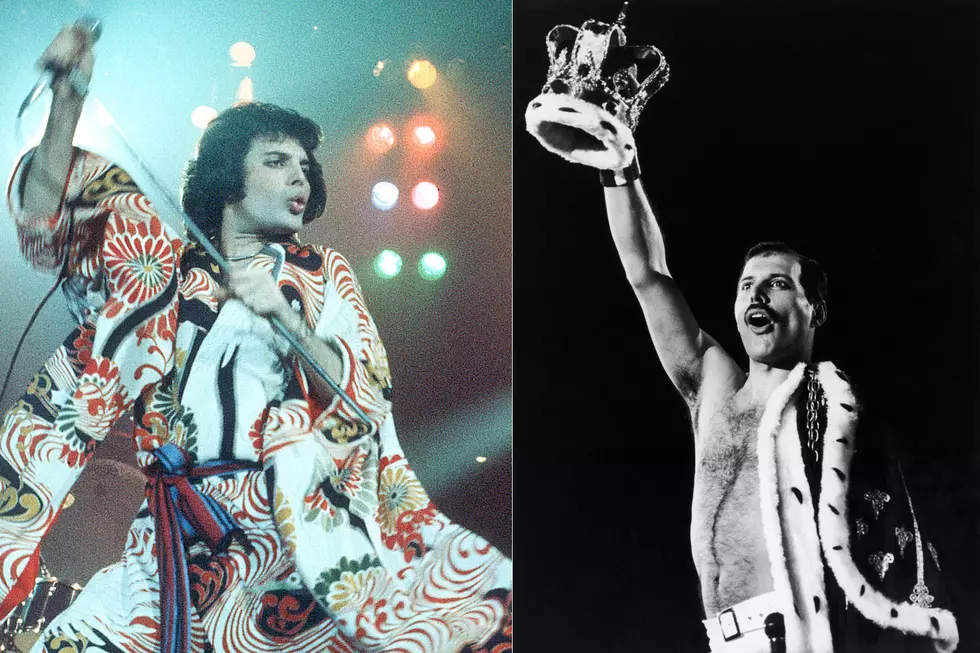 Freddie Mercury's Possessions to Be Sold by Mary Austin
Michael Ochs Archives / Dave Hogan, Getty Images
The most personal possessions of late Queen singer Freddie Mercury are to be sold at auction later this year after his closest friend Mary Austin decided the time has come to part with them.
Mercury left his London home, Garden Lodge, and all its contents to Austin when he died in 1991. She kept the building and the collection almost exactly as he left it for more than three decades. Items to go on sale include handwritten lyrics, his replica crown, stage costumes and paintings. The treasure trove of 1,500 pieces will be exhibited in London, New York, Los Angeles and Hong Kong before six auctions take place in August and September.
"For many years now, I have had the joy and privilege of living surrounded by all the wonderful things that Freddie sought out and so loved," Austin said in a statement. "But the years have passed, and the time has come for me to take the difficult decision to close this very special chapter in my life.
"Freddie was an incredible and intelligent collector who showed us that there is beauty and fun and conversation to be found in everything," she added. "I hope [the upcoming events] will be an opportunity to share all the many facets of Freddie, both public and private, and for the world to understand more about, and celebrate, his unique and beautiful spirit."
In an interview with the BBC, she said the pages of lyrics and musical notes will be the hardest to let go. "You're looking at the process of the artist, of work in progress," she explained. "The crossings out, the rethinking, the reformatting. ... I decided that it wouldn't be appropriate for me to keep things back. If I was going to sell, I had to be brave and sell the lot."
Sotheby's sales boss David MacDonald noted that "Freddie Mercury's collection is a manifestation of one extraordinary man's creativity, taste and unerring eye for beauty, presenting so much more than just an exquisite selection of the very best examples by artists across centuries and countries. Like a Russian doll, Garden Lodge has revealed its layers of treasures over recent months, with the rich tapestry of objects we have discovered there taking us all on a glorious adventure through his imagination. Opening the door to the very special place that was Freddie Mercury's home offers us the ultimate backstage pass into his world."
The auction is expected to generate up to $7.4 million. Austin will donate some of the profits to the Mercury Phoenix Trust and the Elton John Aids Foundation.
2023 Rock Tour Preview
Reunions, farewells and long-awaited shows are on the horizon.