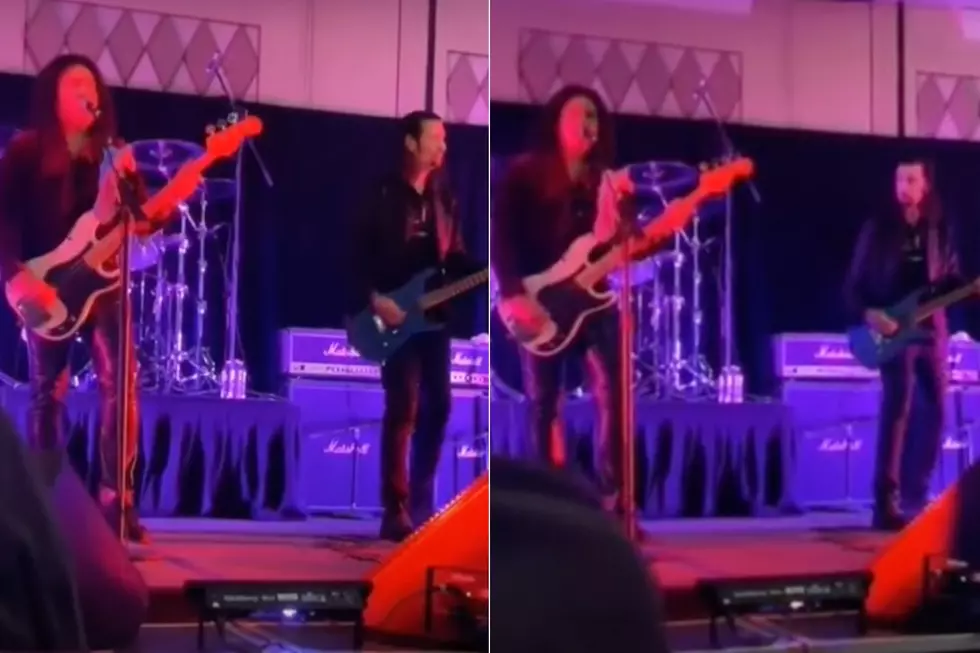 Gene Simmons Plays Solo Show With Bruce Kulick and Eric Singer
YouTube
Gene Simmons played a solo show with former Kiss guitarist Bruce Kulick and current drummer Eric Singer on Saturday in Las Vegas as part of a weekend-long VIP event.
You can see videos of Simmons and Kulick's team-up and the full set list (via Kulick's Facebook) below.
The Demon is hosting "An Evening With Gene Simmons" at the Rio Hotel and Casino, home of the Kiss World museum and Kiss by Monster Mini Golf course. Priced at a cool $4,955, the weekend extravaganza includes dinner with Simmons at the hotel's top-floor Voodoo Steakhouse, handpicked items from the rocker's personal collection and an intimate performance from the Gene Simmons Band.
Kulick, who played with Kiss from 1984-96, posted about the event on his Facebook page, where he revealed that singer/bassist Todd Kerns and drummer Brent Fitz (who both play in Kulick and Slash's solo bands) and guitarist Brent Woods (who plays with Sebastian Bach) also took part in the performance. "Gene Simmons invited Todd Kerns, Eric Singer, Brent Woods, Brent Fitz and I to perform with him today at his event," Kulick wrote. "The mentalist Gerry McCambridge opened the show. It was KISSTORY, and the fans loved it! What a show!!"
Kiss is currently on their sprawling End of the Road farewell tour, which is set to finally end with two back-to-back hometown shows at New York's Madison Square Garden on Dec. 1 and 2. The face-painted rockers are not scheduled to play in Las Vegas on the final North American leg, and they haven't been back to Sin City since canceling their Planet Hollywood residency in late 2021.
Simmons seems to still be thinking about the residency though. When asked if Kiss would play Vegas again, he told the Las Vegas Review Journal, "I actually don't know because we have been so inundated by people wanting to see us wherever we go. I mean, every guy who ever washed my dog or did my dry cleaning is hitting me up for tickets for his entire family, three generations back. Vegas? I don't know, it would be nice to do a Vegas residency. But I don't know any of these things."
Watch Gene Simmons Perform With Bruce Kulick in Las Vegas
Gene Simmons w/ Bruce Kulick and Eric Singer, 5/6/23, Rio, Las Vegas
"Plaster Caster"
"Charisma"
"Domino"
"Nothing to Lose"
"Going Blind"
"Watchin' You"
"Deuce"
"Radioactive"
"I Was Made for Lovin' You"
"Christine Sixteen"
"Let Me Go, Rock 'n' Roll"
Kiss Lineup Changes: A Complete Guide
An in-depth guide to all of the personnel changes undergone by the "hottest band in the land," Kiss.