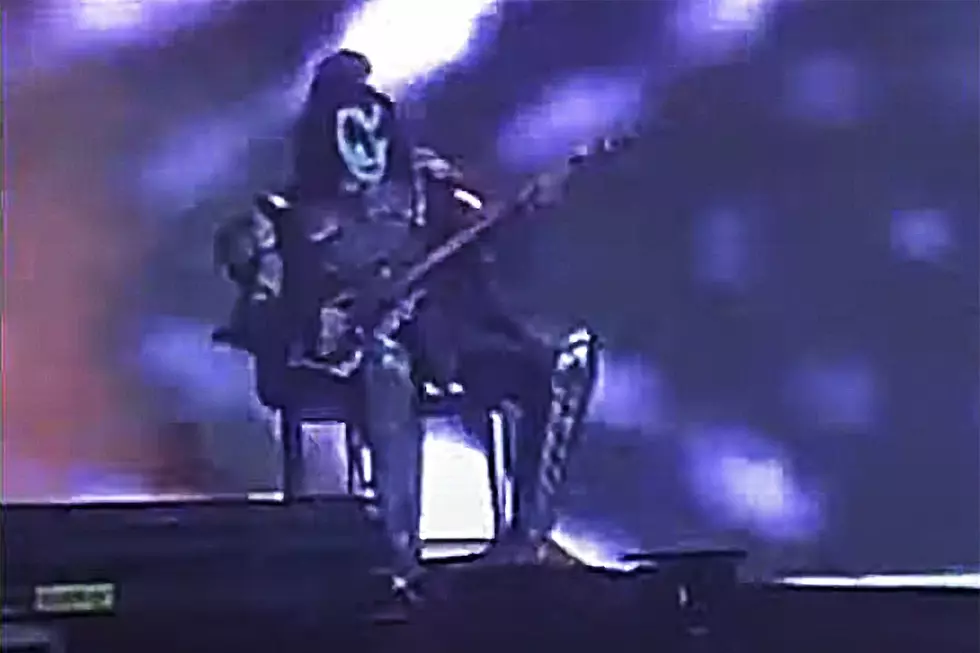 Watch Kiss Pause Show Over Gene Simmons Illness
YouTube
Kiss paused their show in Brazil Wednesday night after bassist Gene Simmons tried to perform with an unspecified health issue.
Simmons issued a statement on Twitter Thursday morning to clarify that he was OK following a bout of dehydration. "Hey everybody, thanks for the good wishes. I'm fine," he wrote. "Yesterday at Manaus Stadium in Brazil, [I] experienced weakness because of dehydration. We stopped for about five minutes, I drank some water, and then all was well. Nothing serious. Tomorrow, Bogota Stadium. See you there!"
The band was partway into its set at the Arena da Amazonia in Manaus before Simmons began to struggle and had to sit down while attempting to play. After a short time, Paul Stanley told the audience, "We're gonna have to stop to take care of him. Because we love him, right? Let's give Gene a really loud cheer." After the audience showed their appreciation, Stanley added, "All right – we'll try to see you a little bit later. We love you." A video clip of the moment can be seen below.
"Shortly before the song 'Cold Gin,' sung by [Simmons], the artist felt unwell … causing the presentation to stop for at least five minutes," a post on Acritica.com reported. "Soon after, he returned to the stage and looked better, [waving to] some fans nearby and carrying on with the show." The band went on to complete the performance, although "security reasons" meant that their traditional zipline flight didn't take place.
Simmons' temporary issue follows an episode in February when Def Leppard singer Joe Elliott suffered an attack of altitude sickness before a show in Colombia. He was taken to the hospital the night before the concert and was able to perform even though he felt "a little woozy." Elliott explained that he had experienced "moderate to severe altitude sickness," adding, "I would hate to know what 'severe' [was]. I wouldn't wish it on my worst enemy."
Kiss' show in Manaus was the first of their End of the Road tour leg in South America, accompanied by Scorpions and Sepultura. You can see the set list below. The band's next scheduled appearance is in Bogota, Colombia, on Saturday.
Kiss, 4/12/23, Arena da Amazonia, Manaus
1. "Detroit Rock City"
2. "Shout It Out Loud"
3. "Deuce"
4. "War Machine"
5. "Heaven's on Fire"
6. "I Love It Loud"
7. "Say Yeah"
8. "Cold Gin"
9. Guitar solo
10. "Lick It Up"
11. "Calling Dr. Love"
12. "Makin' Love"
13. "Psycho Circus"
14. Drum solo
15. "100,000 Years"
16. "Love Gun"
17. "I Was Made for Lovin' You"
18. "Beth"
19. "Rock and Roll All Nite"
Kiss Albums Ranked Worst to Best
We rank all 24 Kiss studio albums - including their 1978 solo efforts - from worst to best.