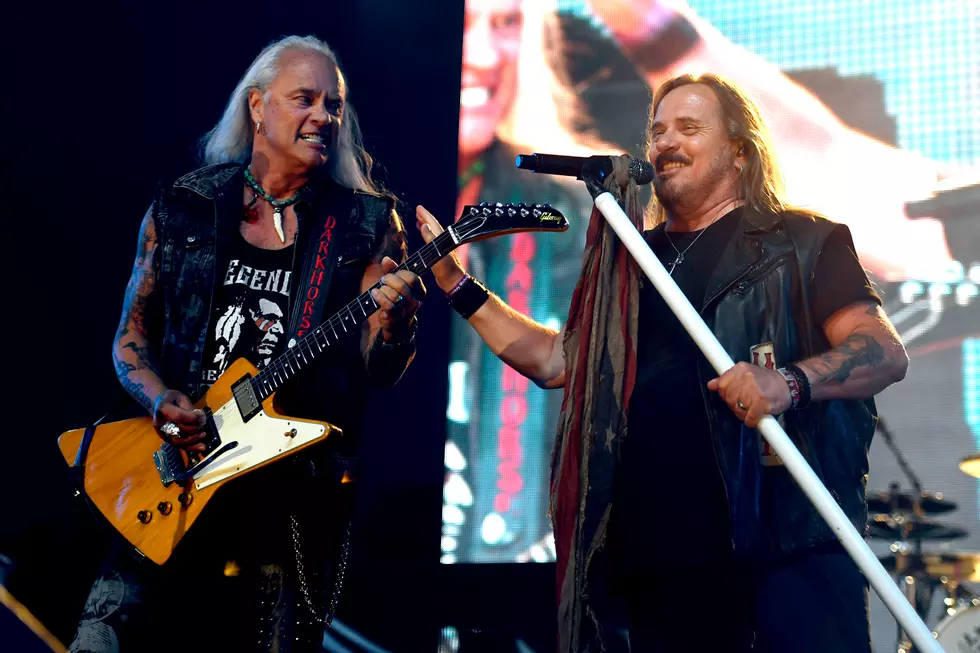 Lynyrd Skynyrd Says 'Maybe We Were Wrong' About Retiring
Frazer Harrison, Getty Images
Lynyrd Skynyrd announced a farewell tour in 2018, then the pandemic forced them to rethink those plans.
"There's a saying in the music business: You don't retire from it, it retires you," Gary Rossington said in 2021. "I have heart problems. I thought I couldn't get around anymore a year or two ago – but I got it all fixed, so now I'm feeling all right."
Unfortunately, Lynyrd Skynyrd's co-founding guitarist continued to experience health issues and was forced to step away from touring that year, though he was able to return for sporadic guest appearances with the band until his death in March 2023.
The future of Lynyrd Skynyrd was in doubt. Without any surviving original members, would they continue? The group decided to move forward with their 2023 plans, including a summer tour with ZZ Top.
Frontman Johnny Van Zant joined UCR to share memories of Rossington and discuss Lynyrd Skynyrd's longtime friendship with ZZ Top, among other subjects.
How's the tour going so far?
It's so early into it, you know? I don't know if Live Nation thought it was going to do as good or not, but we did fantastic. Hell, I don't know, it might have been a sellout in West Palm Beach. If not, it was damn close to it. I think people like iconic [bands], and you have two legendary bands together. If I'm a consumer, I'm going, "Hey, I'm going to see them." I want to see real rock 'n' roll, and that's what this whole tour is about – getting the music out to the people. After COVID, I think people love and thrive on live music right now. For Skynyrd, we were down for 15 months. We didn't play a show for 15 months. As artists, I think we appreciate being able to play. Who knows if some other crazy thing will happen? And I think the audience feels the same way. It's a great healer, for all of us. So far, it's just been awesome.
When did you first come across ZZ Top?
I first discovered them way, way back when they had the Worldwide Texas tour, where they had the damn longhorn onstage, the rattlesnakes and the buzzard! Man, that was really the first time I'd seen ZZ. I really didn't know any of their songs when I saw them for the first time, but I was like, "These cats are badass." First of all, they're representing their state, so they must love Texas. For me personally, to be able to become friends with Dusty Hill – when we were out for 11 months, me and Dusty killed off a couple of bottles of Crown Royal a few nights, singing country songs on the bus and having a good time. He was a good dude. We've done so many shows with ZZ Top. It's just an honor and a pleasure to be out here with them.
You've been dedicating "Tuesday's Gone" to Gary Rossington.
There was nothing better for me than when Gary would go into that first [part]. When he passed, we were in a difficult situation. He was coming down to Plant City, where we had a show. I had talked to him. I was at my grandboy's batting practice. Me and Gary loved baseball. He called me and said, "Hey Bubba!" I was like, "Hey, Brother Man." He goes, "What are you doing?" I said, "I'm at my grandboy's batting practice." He said, "Oh, shit, man. Go ahead on. Enjoy it and call me later."
I didn't call him, because by the time we got done doing everything, [it was late]. I've got big regrets, [because] he passed on that Sunday and that [call] was on that Saturday. We had to play a show after he'd passed. He was supposed to come down to that show. We were going, "OK, we've got to cancel." His wife was like, "Gary'd kick y'all's butt if you canceled." So we went out and played the show after his passing and then came back, and I buried my brother. He's buried in Jacksonville.
What was special about him as a guitar player?
He played like he looked. [Laughs] I always said that. For some reason, he could hold those strings, kind of like Billy Gibbons. Billy has got his style; nobody else can play like he does. Gary had a bluesy, soulful thing. He was that part of Skynyrd, with those long notes holding – but then again, he could play something like "Gimme Three Steps." Gary was a different guy. He was kind of an introvert and didn't like the hype of the music business. He just wanted to play guitar, and that's how he played. Looking back, Stevie Gaines and Allen Collins played way different than him, but he was the blues soul bottom guy to the band.
This year marks the 50th anniversary of Lynyrd Skynyrd's first album. [Van Zant's older brother, Ronnie, was the band's original singer and died in the 1977 plane crash that killed five others.] What do you remember about the early days?
I think about me as a kid, watching it – because hell, they used to rehearse in my parents' living room. It was just kids being kids. I don't think anybody would have dreamt that it would have gone as far as it has and would have made as much impact, myself included. It was funny, because the guys in the band, they were all teenagers. They couldn't cuss or drink if I was around. [Laughs] So they were always like, "Get the hell out of here, so we can do all of this cool stuff!" But man, there's just fond memories. It blows my mind that it actually took off. The first record came out and did OK, enough to get 'em a second record, which was Second Helping.
When "Sweet Home Alabama" hit, people went back and said, "Oh, they've got another record?" They fell in love with the first record. It just started steamrolling from that point on. Of course, until the plane crash happened – but no matter what, the guys in Skynyrd have always been really normal guys. Nobody was born with a silver spoon. They had to work hard for this, and it's great for myself to be able to help carry this legacy on. It blows my mind. I never wanted to be in this situation. I wish the plane crash wouldn't have happened, and my brother would have been here. Who knows what it could have been or what it might have been? But we don't judge what God has in store for us. There's an old line, "If you want to make God laugh, tell him your plans." Because it ain't yours; it's all his. But it's been an amazing trip.
Lynyrd Skynyrd had announced a farewell tour, but you're still touring. How many miles are left on the road?
I want to be upfront with you. We were on our last year – 2020 was really going to be our last year. It was like, OK, we'll go out and maybe do two or three shows after that or do some charity work. We were [in our] last year and COVID hit. We were like, "Well, shit. This is great." We sat at home for 15 months and when those months were up, we were obligated to finish off the dates that we had booked. So we said, "OK, well, let's reform and get back out there and put everybody back to work."
We got back out there and went, "You know what? We really missed this." We missed seeing our fans. Gary was a big part of that. He was like, "I don't want to sit at home. COVID retired me for 15 months and I didn't like it." [Laughs] That's all he's ever done. That's all any of us have ever done. So we said, "OK, maybe we were wrong about that." I've come to a conclusion: Musicians never retire; they just play less shows. We'll see where the heck the future goes. There isn't a thing happening right now that Gary didn't know about, and he wanted it to happen. So we're going to fulfill those wishes and we'll see what the future brings.
Top 25 Southern Rock Albums
For all of its woolly, trapped-in-the-'70s imagery, the genre has proven surprisingly resilient.
When Lynyrd Skynyrd's Rickey Medlocke Met Kiss