Somebody Trolled Kliff Kingsbury at Big 12 Media Days [Watch]
twitter.com/HamiltonESPN
I think this is the next great prank/meme of 2017. We can call it getting Biebed. When someone tries to talk or walks into a room you just hit them with some Bieber tunes, then yell, "Ya just got biebed, son!" I'm sure your friends will take it as well as Kliff Kingsbury does here:
It's not even just the fact that it was Bieber, but that the department running the sound system totally overstayed their welcome playing all over the MC of the media day to the point where he had to say "Hey, guys."
Also, notice the stare down Kingsbury gives these fools at :09 seconds in the video.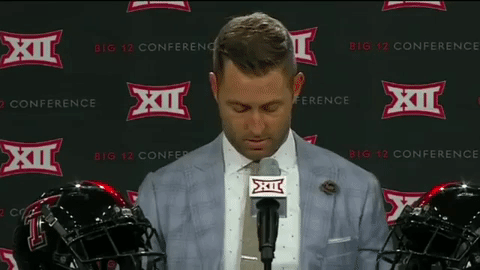 Then Kingsbury, who wasn't going to give an opening statement, interrupts the MC to say he does in fact have an opening statement and it's all about making sure everyone knows he's not a Belieber.
Mark my words: I'm confident that this was done on purpose. Baby, you might be saying, "what do you mean?" It's all about throwing cold water on Kliff. One love.
The last two sentences was me just using as many Bieber songs as possible. Sorry.
The most important take away here is that Kliff Kingbury is not a Belieber.
I repeat, Kliff Kingsbury does not Belieb.
MORE

Texas Tech Fans Curse Out Baker Mayfield

BONUS

Texas Tech Football Game Timelapse