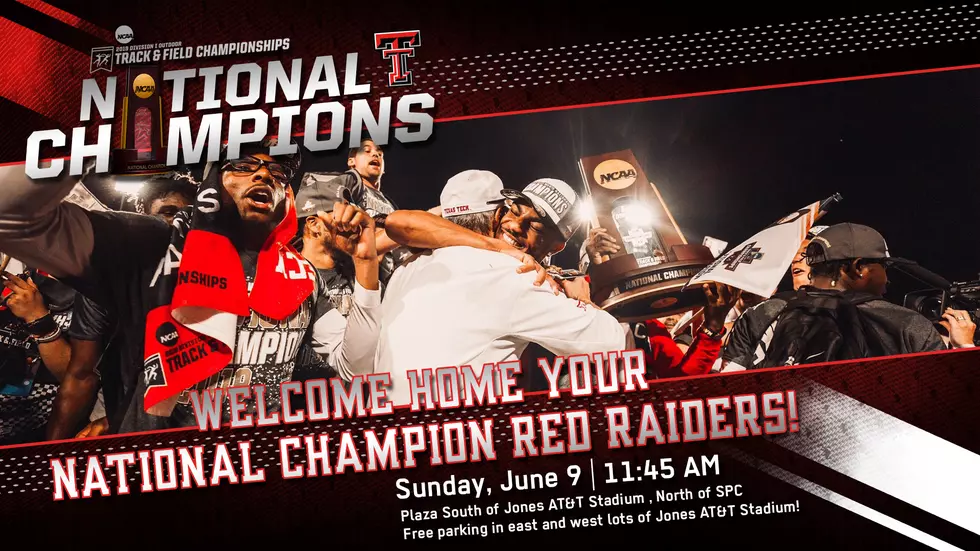 Welcome the National Champion Texas Tech Red Raiders Home on Sunday
Texas Tech Athletics Communications
If you missed it, the Texas Tech Red Raider Track and Field team secured the first Men's National Championship in the history of Texas Tech. The baseball team has been close in the last five years. The basketball team was a shot away this season. The track and field team secured the bag.
Wes Kittley spoke to Red Raider Nation during the trophy presentation.
Texas Tech went coast to coast as the best team in the outdoor track season and asserted their dominance at the National Championships.
The MVP of the meet was Divine Oduduru who won both the 100 and 200m races. He ran a 9.86 in the 100m, the second-fastest time in NCAA Championship history. Then, he ran a record 19.73 in the 200m. Oduduru also was the third-leg in the school record 4x100 relay.
Norman Grimes added a second place finish in the 400m hurdles. With other points picked up in the triple jump by Odaine Lewis and the 800m with Jonah Koech, Vincent Crisp. Duke Kicinski clinched the meet with his winning discus throw.
According to Texas Tech via a press release, "Fans and media are invited to welcome home the Texas Tech men's track and field team, winners of the 2019 NCAA Outdoor Championship, Sunday. The team is scheduled to arrive at the plaza located between the South End Zone of Jones AT&T Stadium and the north side of the Sports Performance Center at 11:45 a.m. Free parking will be available to all in the east and west lots of Jones AT&T Stadium."