Ginger Baker Reveals His Childhood Cycling Dream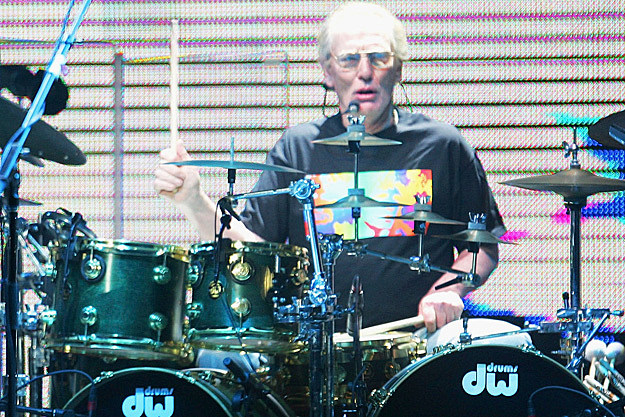 He's indisputably one of the greatest drummers in the history of rock and roll, but Ginger Baker didn't always see himself behind a kit — in fact, as he revealed during a recent interview, he originally dreamed of being a professional cyclist.
"I was obsessed with the idea of being a cyclist when I was a kid, and I rode everywhere," Baker told the Calgary Herald. Sadly for young Ginger — but to the lasting benefit of music lovers everywhere — it wasn't to be.
"One day I had a smash-up and the bike was a write-off," he explained. "I had to earn some money, and this mate of mine said, 'Why don't you play drums?' It's funny – they all knew I was a drummer, and I didn't. I was always beating rhythms when I went to jazz gigs, which I did a lot. Anyway, I went along, they sat me down at the kit, and I just did it."
Baker's unorthodox entry into the drumming ranks continued when it came time to put together his own kit. Short on funds and forced to improvise, he remembers that "I bought a toy drum kit and sort of worked on it. I cut up my tent to put a front head on the bass drum, added a biscuit tin to one of the tom-toms, and took this kit with me to Leytonstone, and got the gig. I told them I'd been playing professionally for three years, and my normal kit was busted."
The rest was history, with Baker going on to keep the beat for Blind Faith and Cream before moving on to a wildly eclectic career that's included stints with a diverse array of artists, including Hawkwind and Fela Kuti — not to mention a recent documentary about his life, the well-received 'Beware of Mr. Baker.'
Source:
Ginger Baker Reveals His Childhood Cycling Dream