Throwback Game of the Week: Zach Thomas Was Awesome
Al Bello, ALLSPORT/Getty Images
In the 1995 season, the Texas Tech Red Raiders started their season 1-2 with close losses to Penn State and Baylor. Their fourth game of the young season was against the 8th ranked Texas A&M Aggies. The Aggies came in to Lubbock with a 2-1 record after losing to no. 7 Colorado.
The game itself is a largely forgettable defensive struggle that is tied with 37 seconds left on the clock in the 4th quarter.
With A&M deep in their own territory needing a first down to keep the drive alive the A&M quarterback, Corey Pullig threw a dart over the middle of the field, giving birth to one of the most iconic plays in Texas Tech history.
The pick six from Zach Thomas will be forever remembered in Texas Tech lore and is featured in every highlight package about the history of Texas Tech football. Thomas would end the 1995 season racking up 131 tackles and being named SWC defensive player of the year for the second straight season.
Because of a career full of plays like this one, Zach Thomas was inducted in to both the College Football Hall of Fame and the Texas Tech Hall of Fame. Thomas also enjoyed a lengthy All-Pro NFL career with the Miami Dolphins and Dallas Cowboys.
With the countless achievements in Thomas' life, this game winning pick 6 has got to rank among the best.
As a bonus, Zach even rang the bell for the bell ringer by running head first into the bell during his celebration.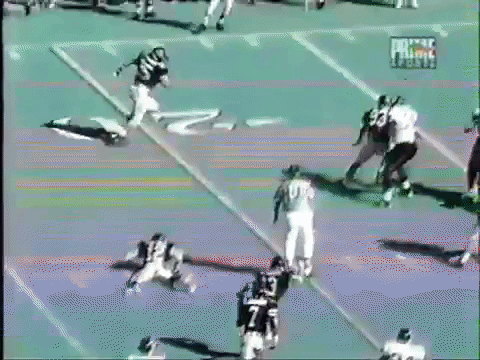 I could watch this GIF for the rest of the day.
BONUS VIDEO

Justis Nelson: 'We Couldn't Be More Proud' of Nic Shimonek