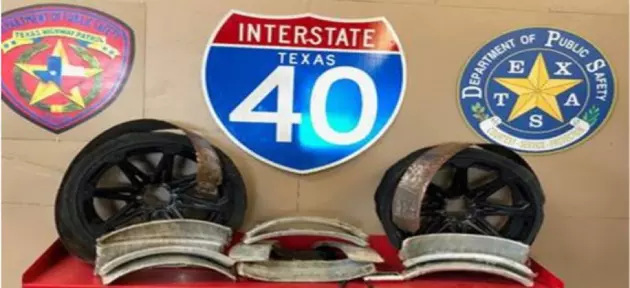 Texas DPS Finds Over 40 Pounds of Methamphetamine During Traffic Stop in Carson County
Texas Department of Public Safety
The Texas Department of Public Safety seized more than 47 pounds of methamphetamine Tuesday (Oct. 25th) morning.
According to DPS, a trooper stopped a vehicle in Carson County around 8:03 a.m. traveling east on I-40 for a traffic violation. The trooper found plastic-wrapped packages of meth concealed inside the car's tires, the group said.
Thirty-six year-old Nahely Pantelakis of Nogales, Arizona was arrested and charged with felony of possession of a controlled substance.
Pantelakis was transported and booked into the Carson County Jail. DPS alleges that the drugs were being transported from Phoenix, Arizona to Oklahoma City.