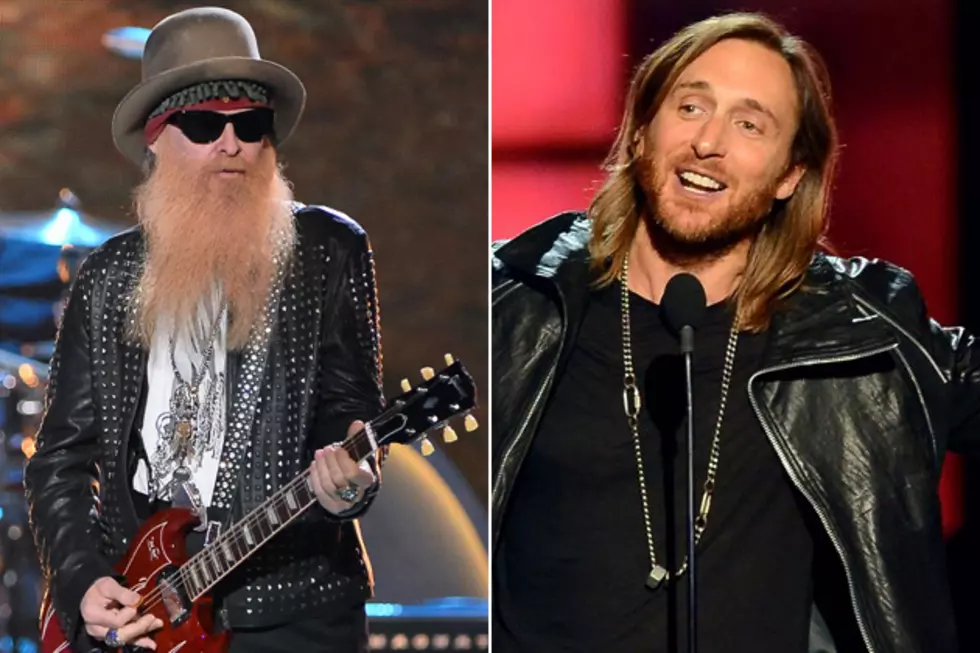 ZZ Top's Billy Gibbons Records With Star DJ David Guetta
Ethan Miller (2), Getty Images
Here's a headline we didn't think we'd ever see: ZZ Top's Billy Gibbons recently collaborated with David Guetta, one of the hottest names in electronic dance music (EDM) today. Gibbons reveals that he played guitar on some tracks that could wind up on a future Guetta project.
As Gibbons tells Billboard, he reached out to Guetta while vacationing on the Spanish island of Ibiza, a hotbed of EDM. "I wanted to know how they did certain things, and of course they were badgering me to bring the guitar to the forefront," Gibbons says. "They said, 'Y'know, the only thing missing in dance music is a good guitar player.' I said, 'Let's see if we can bring the two together and make it shake.'"
Gibbons said that the collaboration was fruitful, with eight to 10 songs that are more or less completed. But before any of us could scratch our heads at the idea of the mismatch between the Texas blues guitar hero and the DJ, Gibbons reminds us that his band are no strangers to technology.
"It's a far cry from what people might expect -- 'Gibbons and electronic stuff?'" he continues. "But a lot of people have overlooked the fact that one of the things that made 'Eliminator' so interesting was the opportunity to go into that experimental side of things and fool around with the coolest new toys that could be found in the recording studio. I'm always fascinated by that, so my time in Spain was very fruitful."