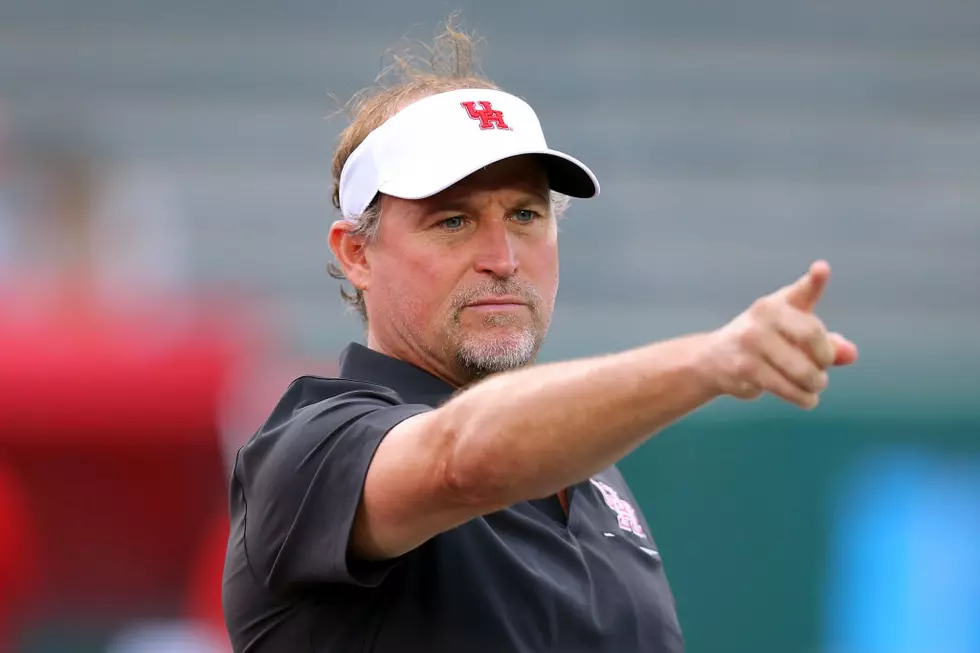 Dana Holgorsen Is Not Afraid of Your Tortillas
Jonathan Bachman/Getty Images
Dana Holgorsen coached in Lubbock at Texas Tech from 2000 through the 2007 season. Then, he went to Houston for two seasons as the offensive coordinator and spent a year in Stillwater with the same role before heading to West Virginia as the head coach for eight seasons.
Now, he's the head coach at Houston heading into his fourth season.
While in Lubbock, Holgorsen saw the tortillas fly from the booth. In 2009, Holgorsen out-dueled Mike Leach from the opposite sideline, but the game was in Houston. Holgorsen first saw the tortilla from an opposing perspective when he returned to The Jones with Oklahoma State in 2010.
Holgorsen got to West Virginia in 2011 and the Mountaineers got to the Big 12 in 2012. Holgorsen's first trip to Lubbock as an opposing head coach on the sideline was a 49-14 West Virginia loss. Future Mountaineers head coach Neal Brown out-called Holgorsen in that affair.
Holgorsen would return three more times to Lubbock and not lose again as a Mountaineer. While I'm sure he enjoyed winning 3 out of 4 in Lubbock as a Mountaineer, he'd enjoy it even more to be 1-0 in Lubbock as a Cougar. Holgorsen, again, is trying to guide a program up into the Big 12, granted he's got more than a year to prepare this time around.
He'll also enjoy the tradition of being pelted with a couple of tortillas on the opening kickoff. Not that fans would aim at the opposing team or anything.
"I've coached a lot of games in Lubbock. It's an awesome place, I've got a lot of memories there," Holgorsen said in a press conference. He continued, "I used to throw the tortillas on my way up to the press box, now I'm getting hit by them, but that's cool."
Holgorsen made headlines before Texas Tech's victory over Houston at a neutral site in Houston last year, saying, "We're gonna Wreck Tech." After escaping San Antonio and UTSA in triple overtime in week 1, he's taking a different approach this season.
No. 25 Houston comes to Lubbock this Saturday, September 10th, at 3 p.m. The Cougars have beaten Texas Tech 18 times in their history compared to 14 losses to the Red Raiders, but Texas Tech is on a current 4-game winning streak against them. Texas Tech has only lost once to Houston since 1991. That loss was to Holgorsen's offense in 2009.
Holgorsen, since leaving Texas Tech, is 7-3 in various roles on the opposing staff, including 5-3 as a head coach against the Red Raiders.
Since 1991, Texas Tech is 9-1 against the Cougars. 1990 was the Red Raiders' last loss in Lubbock to Houston.
Either Texas Tech will beat Dana Holgorsen for the first time in Lubbock since 2012 on Saturday, or Houston will win in the Hub City for the first time since 1990.
The 11 Best Hole in the Wall Restaurants on 19th Street in Lubbock
Don't sleep on these great hidden gems.
The 13 Best Hole in the Wall Restaurants on 50th Street in Lubbock
These buildings might be unassuming from the outside, but the kitchens absolutely know what's going on. I wasn't as strict on this one as I was on my
34th Street version
which you can read if you keep scrolling, but I defend my choices below. If you can get a cash loan in the same strip mall as your pizza, it might be a Hole in the Wall.
The 10 Best 'Hole in the Wall' Restaurants on 34th Street in Lubbock
34th Street is known locally as "where the work gets done," but it's also where the eats go down. (Side note: I also might be the only one that says that because nobody else I know remembers that.) Back to the point, these buildings might be unassuming from the outside, but the kitchens absolutely know what's going on.