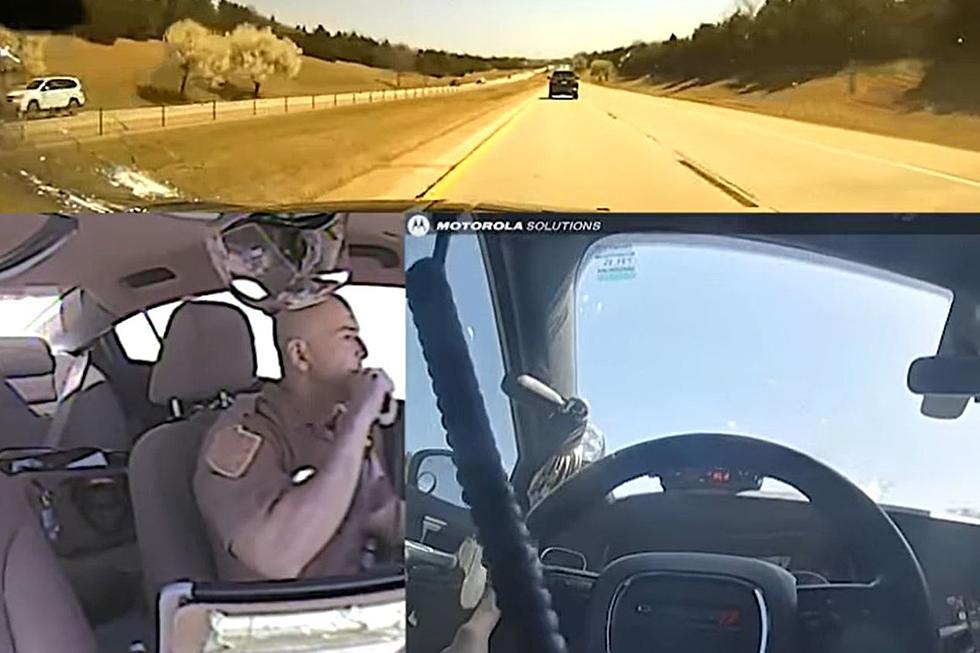 Oklahoma State Trooper Stays Calm While Being Shot At During High Speed Chase
Facebook: Oklahoma Highway Patrol
This State Trooper has nerves of steel.
The Oklahoma Highway Patrol released dashcam and bodycam footage of Trooper Brack Miller engaged in a high-speed pursuit of a black SUV on the Turner Turnpike in Oklahoma City back on Saturday, April 2.
During the chase, the suspect, 32-year-old Charles Carswell, opened fire on the officer, striking his patrol car several times.
Amazingly, Trooper Miller kept his cool throughout the miles-long chase while not only dodging bullets but doing everything in his power to not strike other vehicles on the road as well as other officers parked along the side of the highway.
Even though the suspect has a gun pointed at him, firing shots into his front windshield, Miller calmly relays the situation over the radio while attempting TVI (Tactical Vehicle Intervention) maneuvers in an effort to spin the SUV 180 degrees to stop the vehicle.
He ultimately was able to successfully spin the vehicle around and bring it to a stop. Trooper Miller only sustained minor injuries during the incident.
Carswell continued to fire at troopers while barricaded behind the SUV. Troopers and officers fired back at Carswell, where he was struck and killed on the scene. Two troopers were injured but are expected to recover.
As is the case with any incident in which shots are fired, troopers returned fire on the suspect. However, that footage hasn't been released to the public pending an investigation.
According to News 9, Carswell was from Sedona, Arizona. He had robbed a Whole Foods in Sedona before traveling to Oklahoma City.
Texoma's Most Wanted Fugitives of the Week April 15, 2022
Texoma's Most Wanted Fugitives of the Week April 8, 2022
Texoma's Most Wanted Fugitives of the Week April 1, 2022