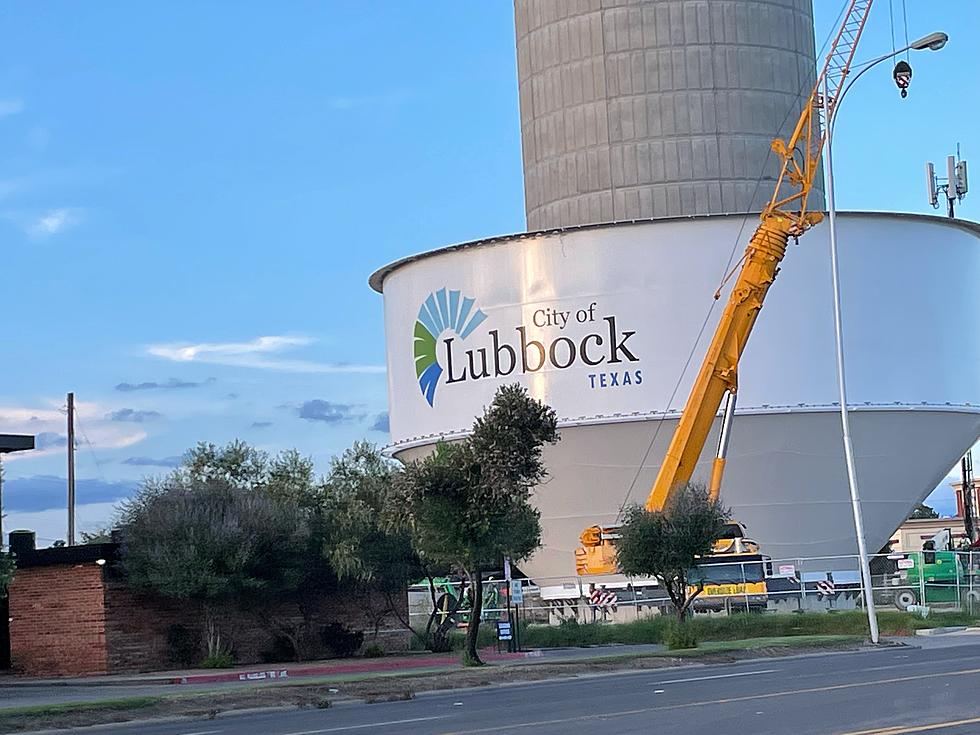 Sightseeing Opportunity: Bowl for New Water Tower in Lubbock to Be Raised on Saturday
New Lubbock Water Tower 50th & Joliet (Amber Massoud, Special to KFYO News)
The delayed completion for construction of a new water tower for the City of Lubbock is now scheduled for Saturday, July 10th, 2021. The newest water tower will be located at 50th Street and Joliet Avenue, where the city's lone water tower once stood for decades.
Starting at 7 a.m. on Saturday, July 10th, the bowl for the new water tower will be raised onto the tower's pedestal. The overall height for the new water tower is 178 feet; significantly taller than the old water tower that was also located at the same site.
City officials note that people can come watch the water tower's construction from a safe distance.
Drivers on 50th Street, between Memphis to Indiana Avenue, during Saturday morning should be prepared for increased traffic and rubberneckers.
The new water tower being constructed at 50th and Joliet is a partial replacement of the city's long-time lone water tower.
Earlier this year, a similar water tower was constructed at 104th Street and Milwaukee Avenue. You can see in the photo below, that Lubbock is also painting the city logo onto the new water towers.
Three other water towers will be constructed in the city. They will be located at: 82nd and Avenue P, 3rd Street near University Avenue and the Texas Tech University campus, and on the Clovis Highway (US 84) northwest of North Loop 289. Each water tower will be able to hold two million gallons of water and cost $5 million a piece to construct.
In previous conversations with city officials, the new water towers have been described as a vital piece of infrastructure for Lubbock's current, and future, water needs. They are also required due to rules put in place by the TCEQ (Texas Commission on Environmental Quality).
Texas Murder House Sells for $200,000
Would you buy a house knowing that an entire family was brutally murdered inside? This home, located at 711 Leaflet Lane in Spring, Texas, is where
a man executed six people in cold blood
and wounded one.
Trey Culver at U.S. Olympic Track & Field Team Trials -- Day 10 -- June 27th, 2021
LOOK: The most famous actress born the same year as you
Many of the actresses in this story not only made a name for themselves through their collection of iconic performances, but also through the selfless, philanthropic nature with which many of them approached their stardom. In an age of flipping the script on societal norms, many of these actresses are using their voices and platforms to be advocates for those who are otherwise unheard.
13 Exciting Shows Coming to Lubbock's Buddy Holly Hall