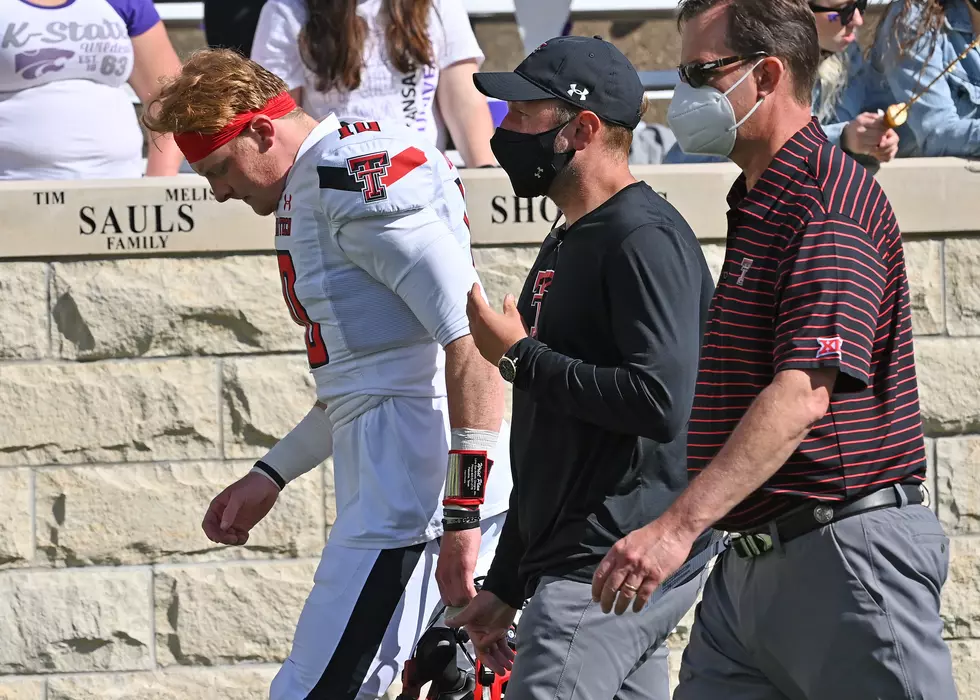 Matt Wells Provides Small, But Positive Update on Alan Bowman's Injury
Peter Aiken, Getty Images
Enter your number to get our free mobile app
Before the injury, Bowman was 4 for 7 with 23 yards passing in just a drive-and-a-half of action.
Texas Tech head coach Matt Wells provided a short and to-the-point update Monday morning on Bowman during his weekly press conference heading into the Iowa State game on October 10th.
"Nothing's broke, nothing's fractured -- he's day-to-day," Wells said in the Zoom meeting, later adding that it was his ankle that was hurt.
---
Wells said there's no firm decision about who will start against Iowa State if Bowman isn't healthy, but he spoke highly of Henry Colombi, the Utah State transfer who took over for the injured QB.
"Henry did a nice job...you could really see him get into the flow of the game," Wells said. "We didn't change our game plan; we kept rolling with it. Henry handled a lot of stuff for the first time live at Texas Tech. As he got comfortable, his confidence grew, his production improved."
Wells' take on Texas Tech's loss fell on final drives that fizzled, as well as the special teams unit's overall performance.
"I'm proud of our players for how they responded coming out of halftime," Wells said about the Kansas State game.
"We didn't finish the game," he added, noting that the Red Raiders' failure to "win the turnover margin," along with two missed red zone-field goals, were key contributors to the loss.
Utah State transfer Henry Colombi came in for the injured Bowman and would go on to throw 244 yards and two touchdowns, along with rushing for 40 yards. In the first half, Colombi would lead Texas Tech to two failed field goal attempts from the usually accurate Trey Wolff.
Bowman would come back out on the field after halftime and test his leg out, but he wasn't able to compete.
In the postgame press conference following Texas Tech's loss to Kansas State, Wells said that Bowman would have an X-ray on his leg and maybe an MRI if needed.
27 Best and Worst Texas Tech Football Uniforms Since 2000