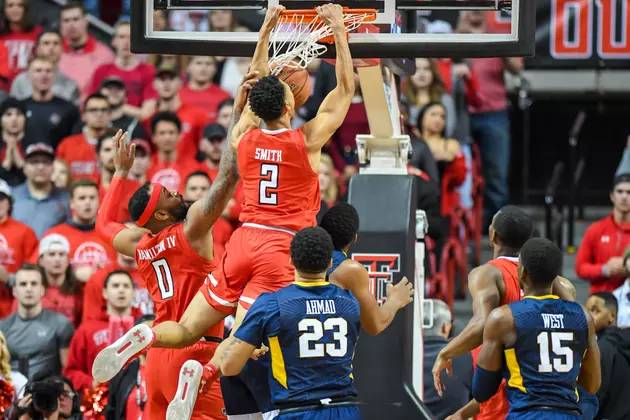 Texas Tech-Kansas Tickets Will Cost You More Than Some NBA Games
(Photo by John Weast/Getty Images)
Texas Tech will face the Kansas Jayhawks on Saturday (Feb. 24) in a showdown that could determine who wins the Big 12 -- or at least a share of the Big 12 title.
Texas Tech is on a two-game losing streak, which puts the Red Raiders at 22-6 overall, but second place in the Big 12 with a 10-5 record. Kansas is 22-6, but 11-4 in the Big 12.
As I've previously written, this is a huge game and ticket prices are soaring, with some court-side seats priced at $1,000.
According to VividSeats.com, the cheapest seats available today are priced around $140. Stephen Spiewak at VividSeats writes that Saturday's ticket prices could be the most expensive ever for a home game.
VividSeats even compared the ticket prices for Texas Tech/Kansas and found that you can get into most NBA games for less than Saturday's game in Lubbock. VividSeats put together this interesting chart showing how Saturday's game compares with others that have taken place in Lubbock and compared to ticket prices in the NBA.
Texas Tech faces Kansas on Saturday at 3:15 p.m. at the United Supermarkets Arena. ESPN's College GameDay will be in Lubbock for the game.
Will you be going to Saturday's game? Or will you be watching at home?
MORE

Fans Rush the Court After Big Texas Tech Win