A Lubbock Man Gets A Reminder That He's Not 10 Feet Tall And Bulletproof
Image: Lance Ballance-Townsquare Media
Yep, this is me. You're probably wondering how I got into this situation...
So last week, I decided to exercise my flair for the dramatic by leaving early for the day in the most attention-seeking way possible.
On a gurney.
Epic.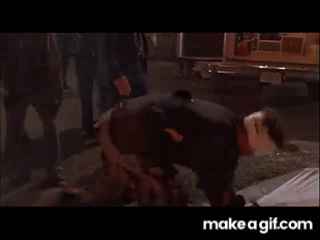 Yep, just like that.
Last Tuesday, I wasn't feeling completely perfect, and admittedly have been running a million miles an hour and not sleeping lately. After I had done my radio show we had a meeting that I felt a little "checked out" of. I noticed that my left hand was feeling a little tight, and I was a bit light headed. After the meeting broke up, I went back to a studio and could not remember why I walked in there. As I walked out, I essentially "blacked out" on my feet.  Everything got very fuzzy and started to darken up, and I braced myself against a chair to keep from going down.
One of my co-workers tried talking to me, and realized that I either wasn't responding, or was making no sense. He helped me to a chair, where I still wasn't comprehending the situation. Other co-workers began to gather, and one decided to call 911. I meekly protested as I started to come out of my trance, but I wasn't about to argue, as I really didn't have much of an idea what was going on.
Ultimately paramedics arrived and began tossing around words like "stroke protocol", which concerned everyone. My wife arrived just as I was being strapped onto the gurney and taken out so she was able to follow me to the hospital.
As we arrived at UMC, I was whisked pretty quickly into the ER, as the hospital staff started in with a litany of tests, both physical and neurological to determine if I had, in fact, had a stroke, or if I was in danger of having one. I was labeled a "Fall Risk", and not allowed to go anywhere without supervision. They also assigned me a yellow smock and socks, which identified me as such.
All told, I underwent:
An Echocardiogram
CAT Scan (I am feline negative)
An MRI, which was cool because they put you in a Hannibal Lecter face cage and run magnets over your cranium.
An Ultrasound of the heart (I do have one, and am not pregnant)
After all of this, the result seems to be that I may have had a minor neurological event known as a TIA, which resolved itself after a couple of hours. I had no other real health issues, although I did test positive for Bourbon and Barbecue sauce. They observed me, and allowed me to rest overnight in the worlds most boring all-inclusive resort (although they kept waking me up every hour to check my vital signs...that kinda got old).
The next day, I passed some neurological tests, and they went over my lab and scan results, and sent me home.
Remember, if you think someone is having a stroke remember this acronym: F.A.S.T.
I will, however, be starting an OnlyFans page with lots of sexy poses in my hospital bed.
What a sexy beast... $10, and I'll take off the socks.
Lubbock's Mugshot Monday: (March 6 - March 12, 2023)
43 people arrested March 6 - March 12, 2023
Aw Yeah! These Are the 10 Highest Texas Lottery Payouts in History
We all wish to win the lottery, but only a select amount of people win large sums of money. Which are the biggest?
Frightening Texas Home For Sale Is A Real Haunted House (Really!)
A house for sale in the tiny town of Baird, Texas (20 miles east of Abilene) may look normal on the exterior, but the inside is full of frights