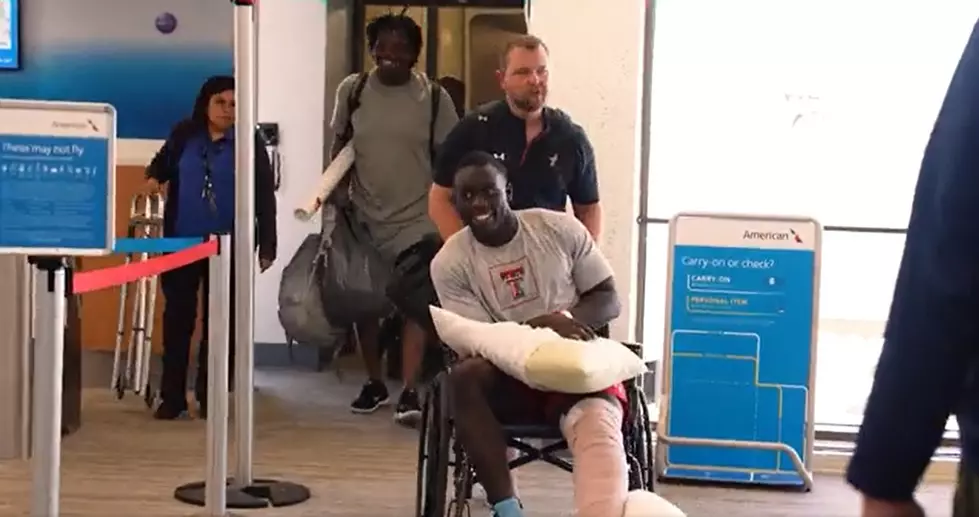 Welcome Home: Injured Texas Tech Player Bryce Ramirez Is Back in Lubbock
Twitter via Texas Tech Football
A recently injured Texas Tech Football linebacker is finally back in the Hub City. Bryce Ramirez was greeted at Lubbock Preston Smith International Airport by Head Coach Joey McGuire and Texas Tech staff earlier today, September 22nd.
Ramirez was in Raleigh North Carolina after suffering a left lower leg fracture in the first half of the Texas Tech versus North Carolina State game. Ramirez was at Wake Medical Center with the Texas Tech sports medicine staff staying by his side until he was able to return to Lubbock.
Ramirez did have to undergo surgery for his injury, then had a second surgery on September 19th. The Texas Tech athlete took to Twitter to let everyone in Red Raider Nation know that he was thankful for their support. In good sportsmanship, Ramirez thanked medical staff at North Carolina State for treating him like one of their own.
Texas Tech University is paying for all expenses to Ramirez and his family in relation to his injury, the stay in Raleigh, and travel expenses as is permitted by the NCAA rules. Bryce did return to Lubbock with a big smile on his face and even more enthusiasm on his Twitter about the upcoming Texas Tech-University of Texas game on Saturday, September 24th.
43 Hot Chicks From Lubbock Who Listen to Metal
A bunch of beautiful metal babes from Lubbock, Texas.
8 Lubbock Restaurants With Delicious Chicken Strips
31 People Arrested in Lubbock on September 21st, 2022
Mugshots of 31 people arrested in Lubbock on September 21st, 2022